Township APK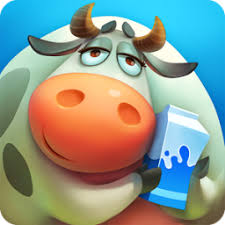 Township – you will be involved in building an agricultural city, creating a dream town of your own. Township is a free city building game available on multiple platforms and developed by Playrix. The town was first available as an Adobe Flash application on the social networking site Facebook. The game was released for iOS on February 24, 2012 and Google Play on November 13, 2013. On February 16, 2014, it was released on the Amazon Appstore.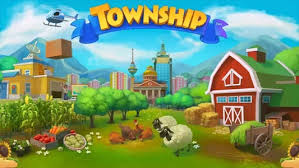 In this game, you will harvest your crops on farms yourself, process them at your facilities and sell goods to grow your town. Trade with exotic countries. You can then open restaurants, movie theaters and other community buildings to make life in your town richer. Explore mines to collect resources and find artifacts. Run your own zoo and collect animals from around the world. It's great, you're ready to become a farmer and city manager to build your dream, join us.
Features
You can create your town with different buildings and decorations. Many crops to grow and then process at your plants. Happy, charismatic townspeople with orders you need to fill out. The mines in your town are filled with artifacts to explore and collect, bringing you lots of value. At this game you will experience like real life, there will also be lovely animals to take care of, farms to manage and expand, exotic goods brought from the island. Build a zoo with the ability to breed animals. National flags and famous landmarks that you can use to decorate your town, like the Statue of Liberty, Big Ben, and more.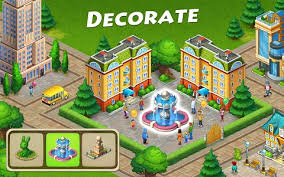 There are many free things in this game, but there are some in-game items that can also be purchased for real money. The main currency in the game is T-cash. Besides, players also earn XP (experience points) and coins to perform different types of actions in the game. Coins are used to buy factories, community buildings, decorations and XP points used to level up. As players accumulate XP points and go through levels, many crops, plants, community buildings and decorations become available.
You can join play with your Facebook and Google+ friends, make new friends in the gaming community to create your own groups. Keeping in touch with other players allows players to grow the town faster using the help of friends.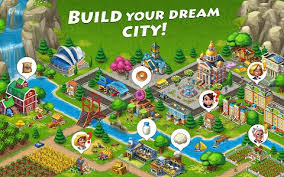 This game encourages interaction between players through the social network Facebook. Keeping in touch with other players allows players to grow the town faster using the help of friends. In July 2015, a new update was released, introducing a zoo and the ability to donate to friends' planes and trains. To interact with others you can also go through co-op, which is unlocked at level 19. You can also participate in regatta races with your co-op to receive rewards.
How to play
Download the latest version of the Township game and take part in building your own epic town. You only need to register for an account and use the mouse to follow the initial instructions in this game. Play and grow your town with a huge population and wealth, interact with friends around the world and get help from them.