My Talking Angela APK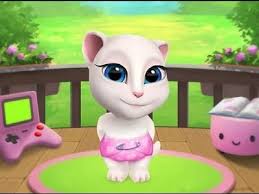 Download My Talking Angela APK
My Talking Angela for Android – a super cool virtual cat breeding game specifically for girls has officially got the latest update with a series of items and 40 new levels. It feels like a real cat: adopt a cat from the time it is in the cradle until it is grown. There are more features sticker collection.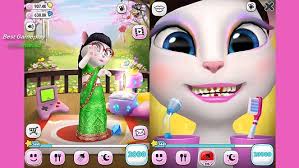 Discover the beautiful world of My Talking Angela! Adopt Angela as your virtual pet and give her a wonderful life! You will take care of Angela from an early age to adulthood. Dress Angela in the most fashionable outfits, build a beautiful pet house, prepare Angela for delicious food … You can play games with your family, collect funny stickers and have lots of fun. end. Make Angela a superstar in your own style.
Just like in the cat game Tom, in the game My Talking Angela, you will nurture a virtual cat extremely cute but this time it is a female cat named Angela. You will be taking care of and shopping for your lovely cat. And surely Angela cat will become the best friend and always beside you on all roads.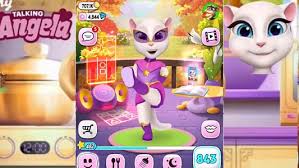 In the game, you not only choose and dress the cute cat with the most trendy outfits that come with attractive hair but also decorate the house and feed the cat daily. In particular, in the game, you can play games with Angela and collect stickers to put in Angela's photo collection or exchange with friends.
Features
- If you are an animal lover or have played through My Talking Tom (or Talking Tom), do not miss this lovely and extremely adorable kitty. You will be Angela's caregiver from brushing your teeth to buying clothes.
- Express your creativity: if you have a fashion sense, Angela's cat is no exception. Upgrade and wear gorgeous, lovely, and trendy outfits for Angela and show off to all your friends in the world or on social networks.
- You can try a lot of clothes in the dressing room. Choose lovely outfits and accessories for Angela to make her happy.
- Gameplay: explore and play with Angela in many mini-games provided in the game.
- Collect stickers: find and collect hundreds of virtual stickers, decorate with Angela's latest photos, and put them on your own album. Or you can exchange stickers with friends to complete the album.
- Own impressive outfits: unlock new and impressive outfits by collecting a full range of special stickers.
- Play with the kitten: you can rub, tickle, and see the reaction of the cat corresponding to your actions. Or talk, sing, and listen to what Angle parodies your voice.
- Log in to Facebook and receive 150 gold immediately and update the hottest information from the manufacturer.
- Content is personalized to attract players.
- Use and connect friends through social networks.
- Watch Outfit7's Animation Video of the characters through Youtube.
- In-app purchases with virtual currency are available, but the price varies depending on your current level in the game.
- Alternatives to access all app functions without having to pay for in-app purchases (game progress, in-game functionality, advertising)