Youtube Vanced APK
Youtube Vanced APK allows you to watch videos without any ads or in other words, this is an ad-blocking application that YouTube does not have. In addition, there are many advanced features that the native application does not offer such as PiP (Picture-in-Picture) mode that allows video playback while using another application (works only with Oreo Roms) and plays videos in low-light mode. Background level while the screen is locked.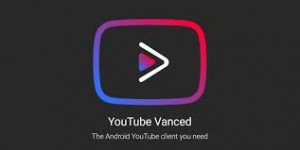 Features
Youtube Vanced APK has absolutely no ads, this is very suitable for everyone to watch because watching a movie or a program with ads will find it very annoying.
The app has many advanced features that the official app does not offer such as allowing videos to be played while using another application (works only with Oreo Roms) and playing videos in the background while the screen is locked. This application will default to the background running video if you hide the application and exit, with this feature you can open a video like a playlist, then let Youtube run in the background and open the application. otherwise, you can still listen to music from YouTube-like the Zing MP3, NhacCuaTui music players, this is great because when using youtube you can only use that application when switching to another application it will be stopped. With this feature you can adjust, if you want to turn off this background feature, you can go to "Settings" -> select "Background" and select "Off" to turn off the feature.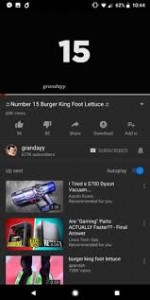 It also has a Black Theme or Dark Theme themes, which look better and don't get dazzled if used in the dark.
You can spread two fingers to zoom the video over the screen, slide the 2 sides to change the volume or screen brightness, toggle the Like / Dislike poll bar, choose the light / dark/black interface to match with regulating your eyes.
The automatic playback feature helps you not to reopen it and still be able to view it multiple times. Sometimes you want to watch a video many times but it only takes about 4 minutes and then stops itself, you're doing something else and can't always open it so this feature will help you a lot.
The preset default resolution for viewing or playback speed, so you don't need to adjust after each video view. You can also adjust the video quality to match the internet speed.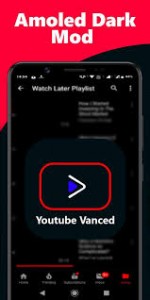 Once you have set up the basics, you can immediately use YouTube Vanced just like normal YouTube without being bothered by ads while watching. You can still install the two versions of YouTube Vanced and the original YouTube version downloaded from Google Play (CHPlay) to use and compare.
How to play
Youtube Vanced download and make some of the following settings if you want, otherwise, you use similar to youtube:
- Dark Theme when using
Click on the Account icon in the top right-hand corner of the screen from the main application interface. Here we will select the Settings item.
Now it will appear Vanced Settings for you to customize the functionality. Then to activate the Dark Theme on this application, we click the Layout Settings item.
Here, find and activate the Black Theme feature to use Youtube Vanced with this black screen mode.
- Automatic video playback when using Youtube Vanced
Go to Settings and select Advanced Settings, then Misc.
Enable Auto-Repeat, this is the section you can automatically replay Youtube videos when using this useful application.
In addition, you can also enable the Auto-Repeat – Background Play feature to automatically replay the Youtube video running in the background on the application (thumbnail video).