KineMaster APK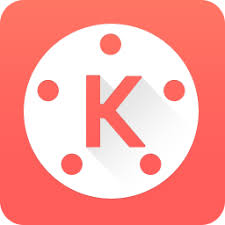 KineMaster app is a professional video editor with full features for Android users. With ease of use, you can cut and edit multiple layers of video clips with precision and easily edit text, photos and audio files. For professionals and amateurs alike, KineMaster offers an unprecedented level of control over the mobile editing process, and for artists and educators, handwriting layers allow you to draw directly on the video. Users include mobile journalists, YouTube creators, short film producers, educators, and other professionals from various industries around the world.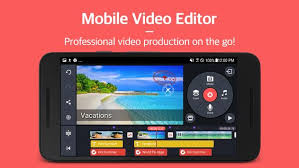 KineMaster is the perfect choice for you. It also has loads of lovely stickers, music, and effects to choose from, making your pictures and videos more vivid.
Features
In order for users to create a professional and satisfactory video, KineMaster – Pro Video Editor has continuously improved features to bring customer satisfaction such as:
- There are many layers of videos, images, effects, overlays, stickers, texts, and handwriting for users
- There are more effects, royalty-free music, overlays, stickers, and more from the KineMaster collection – Pro Video Editor for you to download.
- Mode to trim each frame accurately
- You can preview at any time from all images are edited.
- Hue controls brightness and saturation
- Audio filters, including voice changes
- Blur, mosaic, and other effects
- Lots of cartoon styles for you to choose
- Control the speed for video clips
- Volume envelope (Control volume accurately from moment to moment in the clip)
- Transition effects (3D transitions, wipes, blurs, and more)
- A variety of themes, animations, and visual and sound effects
- Share on YouTube, Facebook, Google+, Dropbox, and more
- Record video and audio in real-time
- Support Video format: mp4 (H.264 Baseline / Main / High Profile + AAC LC), 3gp (H.264 Baseline / Main / High Profile AAC LC), .mov (H.264 + AAC LC, only supported support on devices that can play MOV videos right in the local gallery).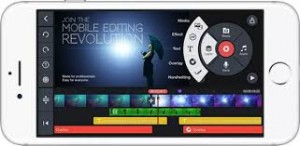 - Support Audio formats: .mp3, .m4a, .aac.
- Supported image formats: .jpg, .png.
- The app also requires access to the phone's camera and microphone if you want to record videos or stream audio within the app. KineMaster also requires access to the phone's memory to save the projects you are working on (projects are saved externally in a folder named "KineMaster" so it won't lose all work if you reinstall it. applications or delete application data).
How to use
Using the application is quite easy. With the feature available you absolutely can easily download images or videos. You can also write an opening line or have it with an image – any style that suits your tastes. KineMaster – Pro Video Editor can still operate even if you do not use this application. With one final touch, the effects feature will help a lot.