Adaway APK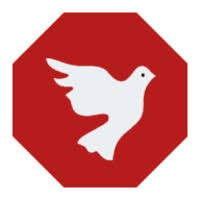 AdAway APK is an ad blocker for Android. When browsing the web or using applications, free games are often inserted by the ads, which is annoying for you and it also weighs the device, taking up the phone memory. AdAway has appeared to help you solve this annoying problem, so you can eliminate ads that appear on your device. The requirement to use this application is that the device must be rooted.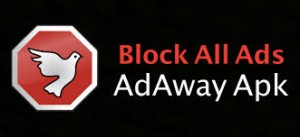 Features
AdAway APK prevents ads from appearing on your mobile device on both web browsers and free applications. The app uses a regularly updated blacklist to block ads from advertisers before they reach your phone.
The application edits server files and adds to the blocked ad URLs, thus requiring root access to access the system files on your Android device. Before installing the application, you need to make sure that the device has been Rooted so that the application can work.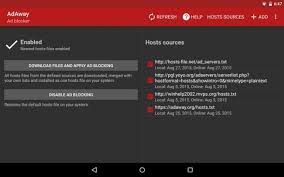 The app is completely free but helps you block all ads on web browsers and applications, which is great so it has been used by a lot of people.
AdAway APK is a great tool to block ads and is not available through Google Play (or perhaps because of it) so you need to download it at this site to use. In addition, its user interface is very simple, convenient, and easy to install.
Before you begin the installation, you need to enable the settings that allow the installation of applications with unknown sources from Settings >> Security to enable the installation of applications.
How to use
AdAway APK is very simple to use, after downloading and installing successfully, open the AdAway app, then click on the DOWNLOAD FILE AND ADVERTISING ADVERTISING box.
The update process is about 1 minute. The system will automatically download some host files, then pool them, and start the operation process. After the update is successful, there will be a notice that you need to reboot, OK click YES. During the operation, you can block ads at any time, but then will have to restart to apply the change.
In case you know exactly which domain or server specializes in creating, providing, and distributing ads, it will have to be assigned to the blacklist of AdAway. To do so, open AdAway, select Menu> Lists, then go to the Black tab> Menu and press the Add button, type ads.doubleclick.net and then press the Add button.
For the application, blocking ads is also quite simple and easy (for example, for the game Words with Friends). Put these programs into the whitelist by opening Menu> List and selecting the White tab, then going to Menu> Add and assigning new domains here (with Words with Friends, this domain part will be android SDK.ads and mydas .mobi).
Note: If you want to remove the AdAway app from your phone, then remove the ad-blocking function first, by running the application and selecting to Disable AD blocking, restart to update Updated. If not, your system will continue to block ads without any way to recover.
Tips for use: After installing AdAway APK, some applications will detect (Fly Play Box) and not allow use. At this time, you will uninstall AdAway, even after uninstalling AdAway, the machine's system has been updated with ad-blocking data. You will have a device that is both fast and light to block ads. Now you can watch movies, TV, surf the web … without ads.